This Crazy Work Of Mine
Written by Duarte Castelo Grande de Carvalho (dcgc)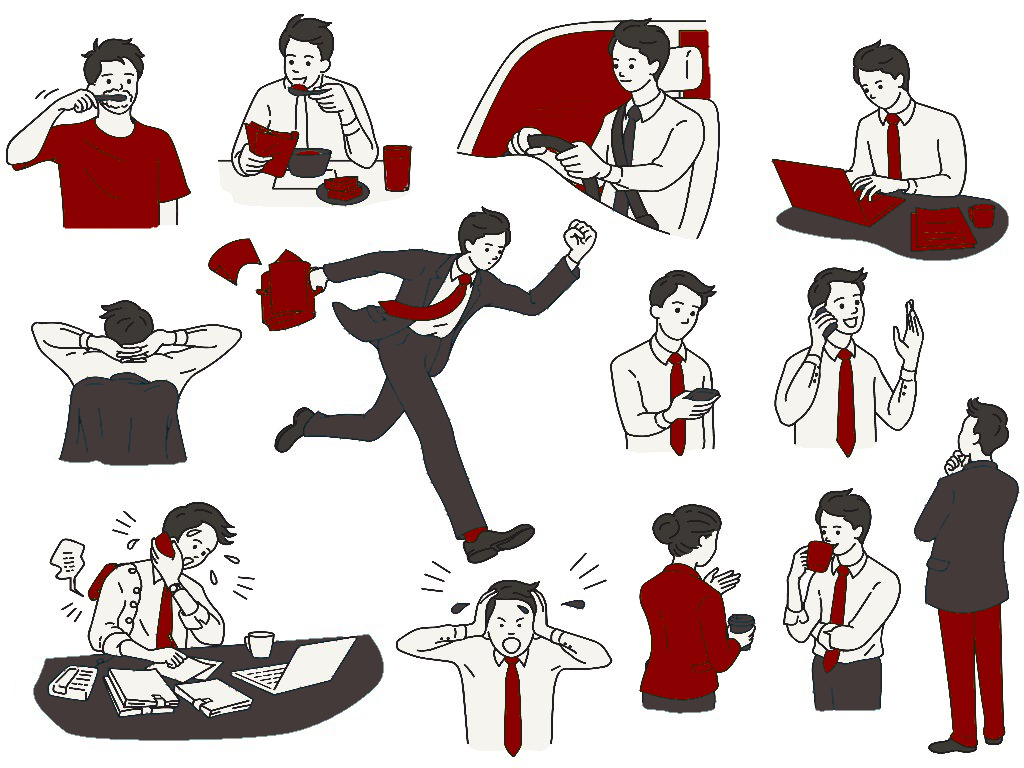 "It's crazy at work." How often do we hear this? Probably too often. For me, "it's crazy at work" was my normal. Why is that? At the root is an onslaught of physical and virtual real-time distractions slicing work days into a series of fleeting work moments. Tie that together with a trend of unneeded over-collaboration, plus an unhealthy obsession with growth at any cost, and you've got the building blocks for an anxious, crazy mess. It's no wonder people are working longer and whenever they have a spare moment. People can't get work done at work anymore. Work takes away from life and life has become work's leftovers. Long hours, excessive busyness, and lack of sleep have become a badge of honor for many people these days, and sometimes, we are contributing to it to a fault (me included). Companies that force their personnel into this deal are molding an ineffective shape at their employees' expense. You would think with all the hours people are putting in, and all the promises of the latest tech and the best benefits, the load would be diminishing or gwtting lighter. It is not, in fact, it is getting heavier. Many modern companies seem to be great at one thing: wasting. Wasting time, attention, money, energy. Out of the 60, 70, 80 hours a week many are expected to pour into work, how many of those hours are really spent on the work itself? And how many are tossed away in meetings, lost to distraction, and withered away by inefficient business practices? The majority. The answer isn't more hours, it's less bullshit. Less waste, not more production. Promises keep coming and more time management hacks are done. More ways to communicate. More information spread across separate platforms and disparate places. New demands to pay attention to more and more real-time conversations happening all the time at work. It is meaningless.
It's constantly crazy at work. Screw that and enough already. It's time to stop celebrating this way of working. Chaos should not be the natural state at work. Anxiety isn't a prerequisite for progress. Sitting in meetings all day isn't required for success. These are all perversions of work — side effects of broken models and worst practices. Step aside, let the suckers jump, and follow a different path of your own. What does matter is your strength to improve the quality of your life, and not to sacrifice everything for the sake of nothing. Let's highlight some of the things we can avoid and some of the things we can follow, and base it on examples of my own experience.
Company as a Software
When we start working in some places, one of the first things we learn is the company's culture. Usually it surrounds on things like hierarchy structure, how departments are molded, and the flow of actions to be taken. In some organizations, that are usually non-tech and where their main business is not technology, we tend to see that; in other organizations, that are focused on development of software (software-house) or are focused on a product that is technological (software product), we see less of that to some degree. The problem is that companies that are adverse to change will not change their ways when needed, or if they will, it will be due to the outcome of an office politics arm-wrestling between people in management positions (usually middle management, trying to show that they are necessary), so it will be done focusing on the ego of these people and not on the improvement of the company. If we think of a company as a software product, we can think of it in terms of usability and usefulness, as well as focusing on its betterment through tweaking, revising, and iterating. Every software has bugs and bad design, and so does a company. All sorts of new possibilities for improvement emerge and when we realize the way we work is malleable, we can start molding something new, something better.
I was working at several companies that only few people or departments were involved or even remotely interested in the continuous improvement of the business, meaning, the product/service being sold and the betterment of how the company itself worked, either be it directly related with the product/service or with the structure and culture of that company. A lot of the efforts done to change several things, usually doing a presentation to senior management or other departments related with handling the company or the office (such as HR and Office/Site Lead) were shot down very quickly. You can debate if a good and strong case was done at the time and that something more should have been done. From where I stand, a lot of people involved in these efforts did their best and really were interested in change (others read a book and thought they could have a quick win). The problem is that a lot of these corporations have such a rooted culture and a considerable size and hierarchy, that to instill change, it takes an enormous amount of time and energy, especially to propose the ideas from the ground-up. The people receiving the message are usually the least interested because of their faux-busy schedule and because they want to maintain their seat at the table comfy and secure. In my past I tried to suggest change on many fronts, but unfortunately was not heard. From this point on, you can do one of two things: double-down on your ideas with the risk of being put aside (inside the corporation or outside (get let go)) or you can just ignore the problems and move on to the next place.
Hustling
The hustle is very real and we see it happening everyday, in some places more evident than others (geographically speaking and depending on the company). The idea behind it is that if you grind uncontrollably and if you put your professional goals above everything else in your life, that you will achieve greatness. It goes along the lines of entrepeneurial inspiration quotes and videos. The hustle may have started as a beacon for those with little to outsmart those with a lot (connections and money), but now it's just synonymous with the endless work routine. For a lot of the people pursuing this path, some end up broken wasted, and burned out with nothing to show for it. These people aren't more worthy in defeat or victory because they've sacrificed everything. Usually this kind of advice or inspirational tales come from managers and people within a company, trying to pull people into being more time at the office and being much more involved with work (in an unhealthy manner). They are mischevious tricks and they are related with the spoon-fed crap that companies keep giving to newcomers to the organization.
I was in the same position: I worked endlessly in previous jobs, hoping to hit the jackpot promotion or raise, or to say the least, to get a pat in the back (which to this day still hasn't happened). Creativity, progress, and real impact do not yield to brute force and relentless work routine. I did not improve tremendously or hit a gold mine of an idea by working the 14th day (10-hour shift) in a row at SOC. Innovation or progress, usually associated with entrepreneurship, doesn't have to be this epic tale of cutthroat survival. Most of the time it's way more boring than that. It's a work-life balance, making the right decisions on how to allocate your time and in what, and ultimately, being in the right place (as I would later find out in my latest job).
Pacifism
The vernacular usually heard in the companies, especially if you work in Sales, is obsessed with fighting, winning, dominating and destroying. Companies that live in such a bipolar world don't "earn market share" from a competitor, they "conquer the market". They don't just serve their customers, they "capture" them. They "target" customers, employ a sales "force", hire "headhunters" to find new talent, pick their "battles", and make a "killing". When you start looking within a company and their teams, and how they operate, it also doesn't deviate far from this. Be it for finacial reasons or for personal accolades, you witness a fierce competition between colleagues, going to the extent of backstabbing and badmouthing, and sometimes even getting the classic example of "pulling the rug under you", etc. It is almost like going to war, where you are pretty much on your own and can only rely on yourself. That paradigm doesn't make any sense because the workers are supposed to be collaborating with each other to reach a common goal (organizational goal), but because of the corporation ladder, you often see these kinds of movements and behaviours.
At this point, I can't keep up with the number of people and places I have been, where this happens constantly. Lots of companies and co-workers are driven by comparisons in general. It is a matching and surpassing game where a lot of times, dirty tactics (as mentioned before) are used. Who's getting awards? Who's getting more money? Who's getting all the attention? Why are they supporting that guy to go to that conference and not us? Over and over again, we witness this. A lot of us go through this on different occasions, even myself am not excused from this in the past, for example. With time, you tend to see that it does not benefit you to compare and to compete in that way. Comparison is the death of joy, someone said to me once. I don't compare anymore: what others do has no bearing on my capabilities, on what I want to do, or what I choose to do. The only thing we should worry to decimate are outdated and archaic ideas, to help achieve progress each day.
Goalless
Weekly, monthly, quarterly and annual goals. Small, medium and big goals. Business, team and personal goals. The art of setting goals is something very common in organizations, be it to be bigger and better than the competitors with ambitious (far-fetched) goals, or be it to achieve concrete and real goals as part of daily work. A lot of them are some and mirrors, others are a necessary evil, others are just what is expected as part of the job. Not everyone inside the company as the same goals because each and every person, each and every department, have different interests for themselves, but also, have different duties. Due to this goal-oriented direction that is consistently taken upon, we sometimes see focus being cast on the wrong things that, when identified, are stubbornly denied because… they are part of the goals that if not achieved, will have negative consequences for the corporation, team or individual. Most of the time, setting these goals leads to unrealistic expectations and to trying to reach numbers or metrics that are just not possible due to the current circumstances that the organization, team or individual is going through, leaving the company wanting to achieve more and more without looking at the means.
I have not been a decision-maker or a suit in many of these places I worked at. I have certainly been a technician. The goals (their importance, their impact and their achieveability) will very much depend on where you work, meaning, the culture, type and market of the organization (where it stands and what it needs to do), dictates its next steps and the way forward. In a lot of the organizations I have been, goals that have been set have been nothing but a placeholder because… the organization says we need to set goals (mandatory due to culture). Well, sometimes there are no goals to set based on the job itself, because I am just supposed to work on security incidents, nothing else. The problem is that companies still view goals as being the end-all-be-all when it comes to making some kind of progess, and especially, measuring it. It doesn't necessarilly have to be this way. Goals are fake. Nearly all of them are artificial targets set for the sake of setting targets. These made-up numbers then function as a source of unnecessary stress until they're either achieved or abandoned. And when that happens, you're supposed to pick new ones and start stressing again. Nothing ever stops. maybe it is time to stop defining goals.
The World Stays the Same
A lot of the work that is projected inside an organization tries to be disruptive against the usual workflow, just for the sake of being irreverent and unsettling to make the cover of the industry magazine, to be featured in a well-regarded blog's article or to get attention inside the corporation. Everyone wants to be a disrupter these days. If you label your own work as disruption, it probably isn't… The work you do is significant and impactful when it is absolutely worthwhile and it makes for a wonderful business case. If you stop thinking that you must change the world, you lift a tremendous burden off yourself and, especially, the people around you. Set out to do good work. Set out to be fair in your dealings with other colleagues and managers, and worry less about changing the world.
Some time ago, in an academy I was studying at, an intructor always told me jokingly because of my sheer enthusiasm and eagerness to want to learn everything and wanting to implement everything, that I wanted to "conquer the world". I didn't really understand what it meant at the time (and maybe he meant it differently) and thought that maybe people around me didn't like to deal with my ambition, but now I see how it applies to some of the decisions or ways of dealing inside a corporation. A lot of times, from my side, work was handled in such a way that it was both pressuring to me and for those around me, because I wanted to implement something ground-breaking. Suffice to say, the idea either got rejected quickly or it failed miserably. Another example I have witnessed was when I worked at a company where our CISO decided to implement a side-job/part-time project based on Google's OKR's (Objectives, Keys and Results). The security department at that company and the company's culture were severily lacking and underwhelming for some time, in much need of a restructure or a breath of new ideas, so this came along. Despite great efforts from my side and from other people too, to work out on some new ideas and improvements on existing structure, under this program, most people quickly ignored it or criticised it because… it was too disruptive for the nonchalant and boring company we were at.
Make It Up as You Go
Business planning, project planning, and other types of planning is something we see everyday in a company. Planning all the time and in the long-term. We plan even though humans are bad at planning because they cannot predict things and because they don't know beforehand how much time something will take. When something fails along the line of this perfectly devised long plan, stress, pressure and other external forces start to kick-in and usually the people who came up with the plan, stick to it in fear of it being considered a failure, instead of admitting and owning the issue and changing the plan accordingly as to move it to the right track. Maybe it is time to break out of this false sense of security long planning gives, and start to shorten that timeframe and short-plan everything. Much corporate anxiety comes from the realization that the company has been doing the wrong thing, but it's too late to change direction because of the "Plan." The sooner you admit that the "Plan." is not doing well, the better it is because you can re-adjust it and re-align it towards the right path. Short-planning (weeks instead of months or years) elimintates this problem.
In almost every company I have been in, there are corporate goals, business goals and goals within the environment I was working at and all of them being very distant and abstract. Some of these goals had thought put into them and were carefully planned, but some of them were a knee-jerk reaction or decided in the heat of the moment, because of external factors (industry circumstances, competition) or because of feedback within the company. Suffice to say, a lot of those goals were quickly identified as being innacurate and imprecise to several of the problems trying to get solved by a lot of people, but having these opinions and voices being disregarded because the goals were part of the "Plan." and everyone should stick to it. sometimes because of this, a lot of people would see that the "ship would sink" in a matter of months, having the employees would jump off-board (move on somewhere else).
Comfort
Overwork, big and extensive workloads and "wearing the company shirt with pride" is something instilled into employees once they join an organization. The idea that you have to constantly push yourself out of your comfort zone and that you need to give it all, is still prevalent in a lot of circles and this message is still frequently broadcasted to all employees. A message that, unless you're uncomfortable with what you're doing, you're not trying hard enough, not pushing hard enough. The companies want employees to have this mentality and way of work, everyday and at every hour they spend in front of their desks. Standing at the cusp of a breakthrough, and taking the last few necessary and temporary uncomfortable steps should be considered an exception, not the norm. But companies want this sort of commitment to happen everytime, in the hopes of bettering or innovating itself in order to stay in front of competition and to be the best. The notion of having to break out of something to reach the next level, leads to disastrous or empty outcomes. Stay comfortable when you can, and only do the extra mile when it is really needed.
The common example of this for me was when I worked in job positions where it was required to handle tickets and facing customers. The sheer amount of tickets to solve and the constant communication and feedback loop between the customer and the security team, required everyone to do extra work, be it with regular daily duties or with ad-hoc requests that were not part of the responsibilities of the job position and that required extra research on what to do, accepting requests that our teams didn't know how to handle, nor having anyone on staff with the capability to deal with the unknown. All of this was done in the hopes that we would attain something more from the customers and that we would be in front of the opponents, in this security support race. A lot of times, because of these unconfortable positions we were put in, the team (which is what the customer sees when he/she interacts with the service) would be put on a bad spot because of some mistake or miscommunication that someone did, precisely because he/she did not know what do, was not helped by anyone in the team (sometimes even ridiculed by the failure) and was not given enough time to work on it.
Forty and Eight
Working 40 hours a week is plenty. Plenty of time to do great work, plenty of time to be competitive, plenty of time to get the important stuff done and plenty of time to sit back and relax. Unfortunately, in a lot of companies, 40 hours is not enough (for the company, that is) and a lot of the work days feel shorter than they should, because they are sliced up into a dozen smaller bits. Most people don't actually have 8 hours a day to work, they have a couple of hours. The rest of the day is stolen from them by meetings, conference calls, and other distractions. So while you may be at work for 8 hours, it feels more like just a few hours, and as a consequence, work gets delayed, pushed out or rushed because of this unsustainable work hours. If you can't fit everything you want to do within 40 hours per week, it means a lot of it is unnecessary. Most of what we think we have to do, we don't have to do at all. When you cut out what's unnecessary, you're left with what you need. And all you need is 8 hours a day for about 5 days a week.
The most prime example of sliced days was when I worked in Vulnerability Management for a non-technical company, where its culture focused a lot on chain of command, hierarchy and meetings. Often we had tons of meetings about meetings, slidedecks and presentations about ideas that were already showcased, and e-mail exchange for authorization and explanation of what was already authorized and explained. Most of these took up a lot of the calendar and time off our daily work, making our quality of work and time allocated to it, diminish significantly.
Unprotected
Employee's time and energy are considered to be an infinite supply of resource by the company. As if they cost nothing. Yet employees' time and energy are among the scarcest resources a company has. Instead of solely focusing on protecting IP's (Intellectual Property), trademarks, NDA's (Non-disclosure agreements) and other legal matters, companies should also focus on their human resources, the people who work for the company everyday and that represent the company, trying to do the best job possible and trying to maintain and improve the company. A company can be a protectionist for all of their assets and equity, but should remember to protect what matters most.
Egregious examples of this are seen in worldwide companies that are mostly financially based (focused on the bottom line) and with one of the highest employee turnovers. I was in one of these companies and, simply put, the livelihoods, well-being and families of the employees were mostly disregarded by the company, especially if it required them to do something extraordinary or out of "their pockets". I did not have any situation where I required to make any special request to the company nor did have any special condition, but I saw first-hand how people with disabilites or in need, people who required a helpind hand from their employer, were quickly ignored by them, and in some cases, companies trying to get rid of these "problematic" employees.
Quality of an Hour
There are lots of ways to slice 60 minutes. You can divide the hour in half, in quarters, or in chunks of few minutes, etc., whatever the occasion is or whatever the duty you have to fullfil. All of this slicing might result in a similar number, but its quality isn't. A quality hour is 60 minutes. A fractured hour isn't really an hour… it's a mess of minutes. It's really hard to get anything meaningful done with such a messed input and it's hard to be effective with fractured hours, getting easily stressed out because of the amount of different things, distractions, etc., happening within the hour. And between all those context switches and attempts at multitasking, you have to add buffer time. Time for your head to leave the last thing and get into the next thing. A bunch of fractions does not equal efficiency of your time, and especially, it does not equal multitasking and getting things done faster at work.
In a job position where I had to have a lot of conversations (in this company, meaning meetings) due to the nature of the work (Vulnerability management), a lot of hours that should be dedicated towards quality work, ended up being wasted because: I had to prepare those surplus meetings and I had to enter into the "meeting mindset" (anyone who has prepared a meeting knows what I am talking about). Depending on the position in a company, for a lot of people who attended meetings, some people were just passive participants and didn't require much effort in a meeting, while others were commanding and driving the meetings and needed to prepare them, while having other things on their "plate". Quickly, the day gets occupied with all of this clutter and the work you need to get done, stays unfinished.
Effective > Productive
?
Outworking
?
Work Away from Work
?
Office Hours
?
Calendar Tetris
?
Presence Prison
?
Availability
?
FOMO
?
We're Family
?
Follow the Leader
?
Trust Battery
?
Being Upfront
?
Own it
?
Low-Hanging Fruit Can Still Be Out of Reach
?
Sleep
?
Balance
?
Hire the Head
?
Nobody Hits the Ground Running
?
Ignore Talent
?
Salary Hostage
?
Benefits Who?
?
Library Mindset
?
Disconnected Vacations
?
Truthful Goodbyes
?
When to Real-Time
?
Dreadlines
?
Don't React
?
Ironman Weeks
?
New Normal
?
Bad Habits Beat Good Intentions
?
Independencies
?
Commitment
?
Compromise on Quality
?
Narrow as You Go
?
Nothingness
?
Enough
?
Worst Practices
?
Whatever It Takes
?
Have Less To Do
?
Three's a Company
?
Stick With It
?
Say No
?
Risk Without Risking
?
It Is The Season
?
Bet On Black
?
Priced to Lose
?
Launch and Learn
?
Promises You Can Keep
?
Copycats
?
Changes
?
Stayups
?
Severity
?
Good Old Days
?
Choose Calm
?
Blog posts about Information Technology, Information Security Industry and Life. Whatever comes to my mind.
---